When my oldest child was eight years old, my wife and I decided it was time to buy a play structure for the backyard. After visiting the local stores and checking out the various kits, I was shocked at the high cost. I was convinced I could build my own play structure at a fraction of the cost. It would also be a good project to work on with my son, as well as being a good excuse to buy more power tools.

It took three months to design the Taj Mahal of play structures. When the truck load of raw lumber was delivered, it hit me—what have I gotten myself into? Two hours into the project, my son asked me when it would be done. I optimistically replied "tomorrow," at which point he promptly abandoned me and went inside.
Eight full weekends, one trip to the ER, and a very unhappy wife later, the project was completed at a cost exceeding that of a similar play structure kit from my local store. And over the next few months, I had to troubleshoot a few annoying issues and replace some of the swing hardware to address an annoying squeak.
Was it fun to design, build, and repair the play structure? Yes. Did it have some design issues, cost more, and take time away from my family? Absolutely. In retrospect, would I have just bought the play structure kit and been done with it? Definitely.
The same idea applies in the technology world. Could you spend your weekends deploying piece parts from various vendors and trying to make them work together? Sure. Would you rather spend your weekends snowboarding and hang gliding? Yes, please!
Illumio recently announced that Adaptive User Segmentation has been Citrix Ready verified to secure virtual desktops and apps running on Citrix XenDesktop and XenApp. The verification assures customers that the Citrix and Illumio solution works well together to secure virtual desktops and applications.
Here's how Adaptive User Segmentation works with Citrix XenDesktop and XenApp:
An administrator creates a security policy on the Illumio PCE using AD Group names. In this example, the policy allows all users belonging to the Sales AD Group to access the OpenERP and Exchange applications.
Kate, who is in Sales, logs in to the Citrix Storefront from her laptop and requests a virtual desktop or virtual app. Citrix spins up the virtual desktop or app for Kate.
The Illumio VEN, installed on the workload hosting the virtual desktop or virtual app, retrieves the security policy for Kate from the PCE based on Kate's membership in the Sales AD Group.
Kate is allowed access to Exchange and OpenERP, but is blocked from accessing other applications.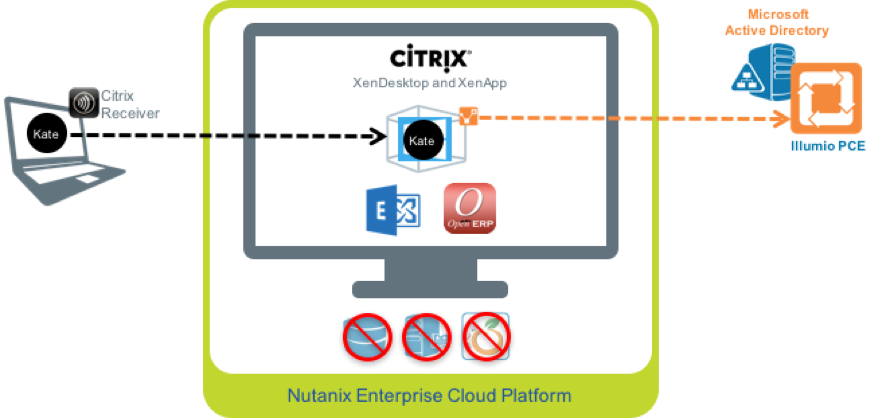 With Adaptive User Segmentation, enterprises can prevent users from establishing connections to unauthorized applications, effectively stopping inside bad actors from compromising applications.
Illumio has worked with both Citrix and Nutanix to ensure Adaptive User Segmentation works well on their platforms; Illumio ASP is both Citrix Ready and Nutanix Ready validated. In addition, Citrix XenDesktop and XenApp has been validated by both Nutanix and Citrix to work on Nutanix's hardened enterprise cloud infrastructure. So when it comes time to deploy a secure VDI solution, all of the kinks have already been worked. And if you do encounter any issues, the vendors will work together to resolve those issues.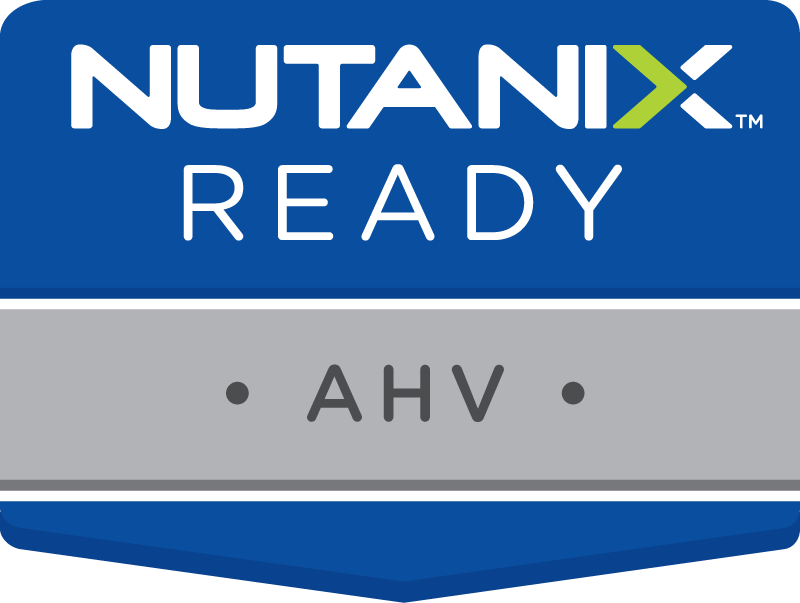 The combined solution provides a fully secured, scalable, and simple Citrix virtual desktop environment on top of Nutanix's enterprise cloud infrastructure. The Citrix Ready and Nutanix Ready validation programs ensure faster, predictable, and supportable deployments to ensure you spend your weekends doing what you want to do.